Food & drink
Whenever we travel, good food and drink are the main driving force as to where we book, at home and abroad.
Saying we are 'foodies' is something of a cliché these days, but we love good food, are interested in cooking and enjoy dining with friends and family, so if that makes us 'foodies' then we guess we are.
We are both keen cooks who are now able to exercise and expand our skills and offer home cooked food which we hope you will enjoy and feel is good value.
Your breakfasts is included in your room cost. Whilst in the evenings between 6:00 and 7:30 we offer deli platters and home made pizzas all year round on Sundays, Mondays, Tuesdays, Thursdays and Fridays (Wednesdays and Saturdays our kitchen is closed) enabling you to enjoy a drink from our extensive honour bar without having to worry about driving or the expense of a taxi. Please browse through this section of the website and if you decide to come and stay with us, please be sure to book any food you may require well in advance and tell us of any allergies or dietary requirements so we can accommodate you.
When you arrive & onwards...
For new arrivals we will welcome you with a pot of tea (or coffee) and one of Chrissie's delicious home made cakes.
From October 1st to March 31st we offer our Winter Café menu for those of you who would like a warming cuppa and a slice of homemade cake from noon onwards. Prices are below:
Cappuccino or Latte @ £2.50
Espresso, single £1.50, double £2.50
Chrissie's special hot chocolate £3.00
A pot of tea for two @ £3.00
(choice of English Breakfast,
Earl Grey, Camomile, Peppermint,
Green and decaf English Breakfast)
Slice of the cake of the day £2.00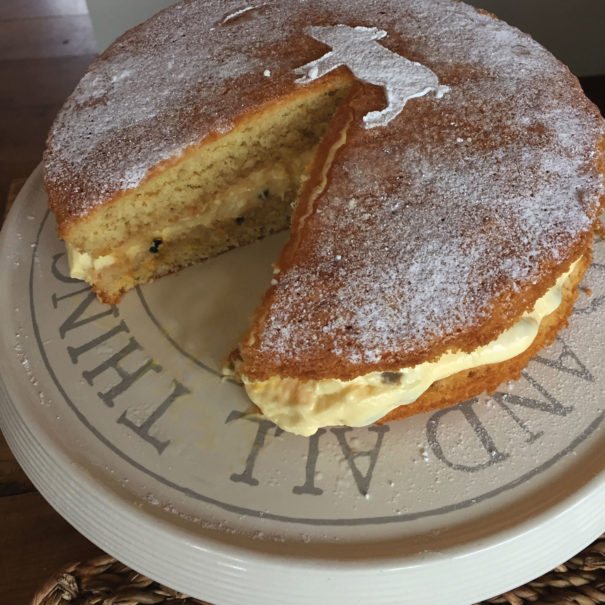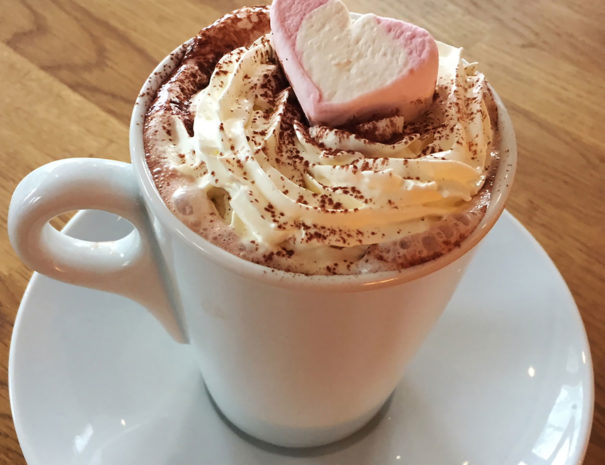 To save you having to read through our food offerings, we've put together a PDF which shows all options which are either vegetarian, vegan or both. Just click the Piglets logo: to the right
Click on the photo or title below to jump to that section of the page
Breakfast at Piglets (included with your room booking)
We don't believe that asking guests what they would like for breakfast the night before is the right thing to do, especially if they have just eaten their evening meal!
So to ensure everyone receives a relaxing and attentive breakfast cooked fresh to order we offer reserved half hourly slots from 8:00 to 10:00 daily – if you would like a particular time, do reserve a slot when booking or let us know on arrival. 
Of course for those on business or needing to be away at a particular time, we will happily take orders the night before so that we do not delay you getting away. Please be sure to request a particular time slot for breakfast either on booking or when you arrive if you have an appointment to keep.
ALLERGIES: Please inform us if you have any allergies or dislikes so we can give you information about ingredients to allow you to make an informed choice.
Our menu is marked 'V' for vegetarian, 'Vg' for vegan and 'GF' for gluten free.
If you don't see it, we might have it or be able to get it in for you, so please ask.
Breakfast Menu - all breakfast items are included in your room stay
Cooked to order breakfasts - what came first? Definitely the chickens here at Piglets Boutique B&B!
Fully stocked and at local pub prices, not hotel ones. Our bar is self service but we are always on-hand if you need something that we've missed!
BEERS: Popular and artisan lagers, beers and stouts can be found in our cooler as can our own cider made from our own apples. 
HOUSE WINES: French, Italian and new world house wines are available in full, half and some single glass bottles and two sizes of Prosecco. 
ICE COLD VODKAS & PIMMS: Premium and standard Vodkas are cooled too, as are ready mixed cans of Pimms.
GIN LIBRARY: In the bar you will find over 50 gins together with some premium small batch specialist gins – we have a wide range of Fever-Tree mixers, plus you will find dehydrated citrus fruits together with juniper berries, cardamom pods and pink peppercorns to liven up your G&Ts and of course lots of ice,
NIGHTCAPS & APERITIFS: All other spirits are represented from blended to malt whiskys, Tequilla, artisan rums plus a special digestiv and aperitif section including liqueur gins, our own homemade Limoncello Gin-ello, Cognac, Baileys and all the usual suspects!  
COCKTAILS: Local Cambridge mixologists have made a selection of their award winning cocktails (basically shake over ice and add mixers they suggest), from an Old Fashioned to a Porn Star Martini or a sultry Mojito or a Margarita – we've covered most bases.
NON-ALCOHOLIC SPIRITS & BEERS: We have Seedlip, Divers' Tipple and other non-alcoholic spirits plus 0% lagers. 
SOFT DRINKS: Cokes, San Pelligrino fruit sodas, fruit juices and spring water are in the cooler.
ICE CREAMS, CRISPS & CHOCS:  Local Saffron Walden artisan ice creams , crisps, exotic nuts and snacks plus some chocolate can be also found in the bar.
HONOUR PART: All we ask it that you return our trust in you and jot down what you have consumed on your room sheet displayed in the bar and we'll add it to your bill when you settle up – sounds fair?
Enjoy…
Here at our rural country location there are a few things that might come as a surprise to those of you who are more used to urban life where dining opportunities abound and taxis are available at a snap of one's fingers…things don't quite work this way around here, which is one of the lovely things guest like about visiting us Piglets; however it can be a little frustrating at times…let us explain; you are probably unlikely to find many pubs/restaurants open on a Sunday, Monday or Tuesday evening for food. And if you don't book long in advance, getting into your favoured pub or restaurant on a Friday/Saturday night or for Sunday lunch might prove difficult plus  local taxis' are often all booked up (BTW there is no Uber here).
So with this in mind, our kitchen is open Sunday, Monday, Tuesday, Thursday and Friday evenings for pre-ordered food from 6 to 7:30pm (order when booking or by 5pm daily). 
Depending on the weather evening meals will be served either in our upstairs dining room or al-fresco on our Mediterranean style patio together with our magnificent wood fired pizza oven all fired up.
Thus allowing for a cosy night in at Piglets with no taxis, our honour bar on hand and bed just a few steps away!
Please note the kitchen is closed on Wednesday and Saturdays.
Please order either
for the evening. Thank you.
12" Stonebaked pizzas with fior di latte mozzarella & tomato & herb base from Emilia Romagna
PIGLETS' SUMMER DELI PLATTERS - available all year.
Feeling peckish or fancy a night in after a long drive? We have deli platters which can be ordered daily at breakfast for that evening or for later in your stay. These are a substantial meal for one or a good sharing platter for two. These are served from 6pm to 7:30pm if weather allows; al-fresco on our Mediterranean patio or upstairs in our breakfast dining room. 
Please order either
for the evening of your arrival. Thank you.
Please
to avoid disappointment!
Provenance of the food at Piglets
Here at Piglets we endeavour to use local farm produce wherever possible to support our rural community and to give our guests the best possible fresh produce. However, if there are exceptional items we may travel far and wide to bring you the very best artisan food available.
BACON & HAM: Applewood smoked streaky & middle cut unsmoked back from Norfolk via out local Saffron Walden butcher Burton & Son. Honey roast ham from Prior's Hall Farm, Lindsell.
SAUSAGES: Traditional: Award winning "Goddards" pork sauages from Great Garnetts Farm, Barnston. Gluten free: Prior's Hall Farm, Lindsell. 
BLACK PUDDING: The only Black Pudding maker who users fresh blood The Fruit Pig Company, Cambridgeshire.
CHARCUTERIE: Multi award winning charcuterie produced on the hills above Bodmin Moor on the Cornish coast at Deli Farm Charcuterie.
EGGS: From our own free range chickens.
BREADS: Baked in Ingatestone, Essex by family bakers & sold in Saffron Walden market.
PATTISERIE: From Bridor in Brittany, France.
VEGETABLES: If not supplied from Piglets own vegetable patches these are bought from local markets.
SMOKED SALMON:  Fished from Loch Duart in Scotland and  smoked in Grimsby by Alfred Enderby since 1918. We slice our Salmon across the bias to give a "whole fish" experience. "Simply the best smoke house in the UK" says Marco Pierre White.
ARBROATH SMOKIES: Spink's is one of Rick Stein's food heroes & is one of Britain's Top 50 British foods.
MARMALADE & HONEY: Piglets home made marmalade and Essex honey from Wimbish bees.
TEAS: Birchalls has been producing fine teas from their plantations in Africa since 1872.
COFFEE: Italian coffee at it best from Lavazza, Turin since 1895.
SALT & SAUCES: Even our salt is local from the salt flats at Maldon, Essex, since 1882 and Stokes from Suffolk provide our award wining brown and tomato sauces.
If you decide to forego our home cooked food and our in house bar, below are some local café, pub and restaurant recommendations along with a taxi list (do book these well in advance especially at weekends)