Things to do
Where to start…well there is beautiful countryside, charming villages and unique historic towns. Stately homes, castles and the Imperial War Museum, a miniature railway, the dreaming spires of Cambridge, local museums and art-galleries. Let's explore…firstly on foot!
Saffron Walden is a 10 minute drive down the road from Piglets and locally know as 'Walden'.
It enjoys not having an 'off' ramp on the M11 which allows this hidden gem to retain much of its historic charm and remain one of the finest examples of a market town in England as you can see by the market plan of the street names, e.g. Mercer's Row, Butchers Row etc.
When Max was growing up here in the 60's Walden still had its pig, cattle, poultry and general market but sadly today just a general market remains on a Tuesday and more importantly on Saturday when throngs of locals and visitors enjoy produce, local crafts to antiques, wet fish bar, cheese and charcuterie in the town square.
A panoply of different styles/ages of architecture all blend well together and the town is blessed with many independent shops many of which are long standing family businesses.
There is the ruin of our castle which  dates to around 1140 and the largest  parish church in Essex (although a church has stood here since 1130, the current version dates between 1250 and 1258); this dominates the town's skyline with the tallest spire in the county at 183ft/56m.
There are two mazes in the town, one being the largest example of a turf maze in England cut into The Common dating from around 1699 and a more traditional maze is to be found in the beautiful Jubilee and Bridge End Gardens on the northern outskirts of the town.
The Old Sun Inn is a stunning example of the ancient artisanal craft of Pargetting which involves making intricate shapes in plaster – more and more this became a 'signature' of each craftsman. The Sun Inn was also headquarters of the New Model Army during the English Civil War, hosting none other than Lieutenant-General of Horse, Oliver Cromwell. We can arrange a private tour of the restoration project of part of this magnificent Grade 1 listed building, see our 'Things to do' tab for details.
Just opposite and round the corner from The Old Sun Inn is our local museum and a little further down Castle Street one can find the Fry gallery showcasing local artists' works. 
Here are some guides to Saffron Walden for you to download
The maze at Bridge End gardens
Pargetting on The Old Sun Inn
Largest open labyrinth maze in England
Cinematographer Jack Cardiff's home
Sizzling sausages on the market
Early morning sunshine through St. Mary's
Fine leaded window at The Close
Oscar winning Jack Cardiff's blue plaque
Early morning at the market
Gog & Magog on The Old Sun Inn
Green grocer on Market Row
Cross Keys on King Street
Bridge End gardens folley
Amazing at Bridge End Gardens
More Castle Street cottages
Henry Winstanley's blue plaque
Thaxted is listed in the Doomsday Book  in 1086 and comprises mainly of Town Street which is part of the B184 which runs through Saffron Walden and onto Great Dunmow cutting straight through this  small pretty town.
Often appearing as THE picture of an Essex ideal on numerous book covers, The Guildhall dominates the town with the even greater edifice of the parish church looming above. A classic scene that one would have hoped inspired Gustav Holst, who wrote The Planets whilst living in Thaxted and used the name of the town originally for the hymn that is now more commonly known today as "I Vow to Thee, My Country" and was sung at Winston Churchill's funeral in 1965.
Holst was the inspiration for the annual arts festival that is hosted in Thaxted's magnificent parish church of St. John, a huge church that stands testament to the great wealth this small Essex town once enjoyed and the equally stunning guildhall. In the 13th and 14th century's, the town became a centre for cutlery (hence one of our nearby villages being called Cutler's Green).
The festival runs in the months of June and July and includes classical, choral, chamber and jazz performances. You can buy tickets at https://www.thaxtedfestival.co.uk/
To the west of the church just past the Almshouses lies the beautiful and carefully preserved  windmill built in 1804 by local farmer John Webb. For more information please visit https://www.thaxted.co.uk/index.php/tourism/places-to-visit/the-windmillleo.
Despite there being a "Dick Turpin's Cottage" on Storey Lane just next to the guildhall, there is no evidence that Hempstead highwayman; Dick Turpin lived in Thaxted, although it is thought he may have taken an apprenticeship as a butcher at Vincent Duckett's (now the arts festival window opposite the church) and then went on to open his own butchery back in Hempstead before his more lucrative career brought him back to the Thaxted-Saffron Walden road on horseback with flintlocks raised!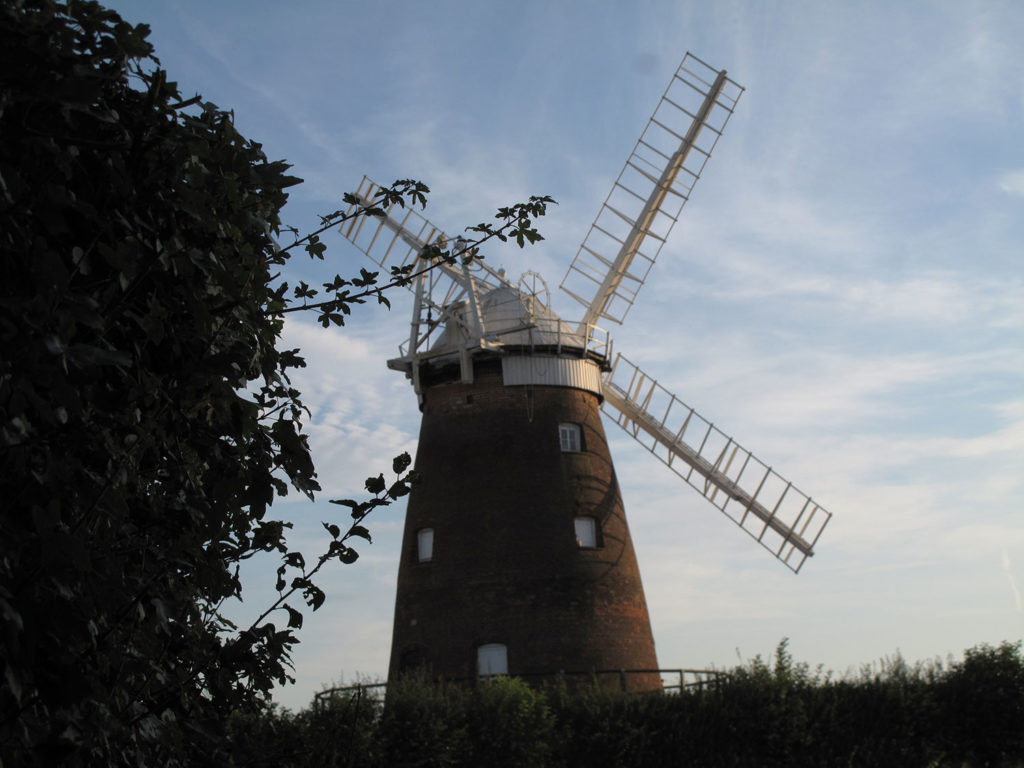 Thaxted has hosted the annual Morris weekend since 1927 on the last weekend in May with numerous sides from all around the country attending.
Morris dancing can be seen in Thaxted and the surrounding village pubs during the weekend but the special night comes on the Saturday when the  mesmeric Abbots Bromley Horn Dance is performed at 10:15pm to a hushed crowd in the closed Town Street as dancers are led by a lone violinist from the church and down into Town street where mass dancing is performed in front of the Guildhall before returning up the hill to the parish church. 
Church of St. John, Thaxted
Gustav Holt's blue plaque
Gustav Holst's home 1917-1925
Thaxted Morrismen outside The Swan
Massed Morrismen from all over dine in Thaxted parish church
Dick Turpin's cottage Thaxted
Thaxted from across the fields
Villages a few minutes away
Radwinter – an ancient small church stands at the top of the Princes Well which is a small valley, sadly there were a number of lovely pubs here but these have disappeared over the years.
Hempstead – Home of the infamous highwayman Dick Turpin who was born next door to the Bluebell pub and then eventually he and his  family moved next door. He learnt to be a butcher in nearby Thaxted before realising that robbery was much more lucrative and less hours! He was eventually hanged at York but not before making his famous dash from London aboard Black Bess, his favoured stallion. Just across from the pub hidden away up a small hill on the right, is the remains of a Cock fighting ring (chains to keep those excited wagerers at bay still hang).
Ashdon – spreading across the hills to the north of us and south of Cambridge, this little village not only used to have a railway line running through it for the local Major to get to London but also hosts a museum. In 1016 King Canute defeated Edmund II of England here.
Widdington – home to a prime example of Tudor engineering in the marvellously preserved Priors Hall Barn which is just on the right as you enter the village. Here you will find the Fleur de Lis pub where Chris, the landlord, will be sure to furnish you with good food and beer.
Sampford – hidden away at the back of Thaxted, this village has a history steeped in pagan practices and leads the way to one of the most visited villages in Essex, Finchingfield.
Debden – is home to a pretty parish church set down a small lane by the local school. It is also jointly with Wimbish, home to Carver Barracks which is home now to the 33 Royal Engineers bomb disposal regiment. During the second world was it was a famous fighter aerodrome for the US Eagle Squadron.
Bartlow – hidden within a wood as you enter the village on the right hand side up a narrow pathway (slow down or you will miss it) are the remains of three remarkable ancient burial mounds – certainly worth a look if you have never seen such a thing before? There is also a nice pub recently refurbished which has good food and beers here called, would you believe, The Three Hills!
Finchingfield – often touted as the prettiest village in Essex, this is an 8 mile drive from us and has a number of pubs and restaurants around the village pond and an 18th century windmill (try and avoid the weekend crowds by visiting during the week). Most famous resident is local Clavering lad, Jamie Oliver!
Turpin's cottage Hempstead
Our favourite pub, the Fleur de Lys, Widdington
The remains of Major Collins railway halt at Ashdon
About 20-30 minutes drive are the lovely picturesque Suffolk villages of Clare, Stoke-by Clare, Cavendish, Long Melford and a little further, Lavenham. Antique and curio shops abound and a few nice places to rest and refresh at, namely the Black Lion in Melford; The Swan and The Great House in Lavenham. Also don't miss a visit to Melford Hall. On this side of Suffolk, near Bury St Edmund's (about 45 mins) lies Ickworth a National Trust treasure.
Founded in 1209 and granted Royal Charter by King Henry III in 1231 the dreaming spires of Cambridge University lie just half an hour to the north of us with a punt down the college "backs" a bucket list must.
Maybe a pint in the RAF bar of the Eagle pub with the wartime squadron numbers burnt by candles into the ceiling (including Max's father's Mosquito Pathfinder squadron, # 105) and where DNA was first discovered or a leisurely stroll around the village of Grantchester and a glass or two in The Rupert Brooke pub. The poet lived in the village but now the most famous resident is author and ex-Tory politician Jeffrey Archer. A strawberry cream tea overlooking the River Cam is a popular activity at The Orchard (but book well in advance).
Did you know that the first game of Association Football was played on Parker's Piece in 1863 following the rules being written at Trinity College, although a form of football had been played in the town since 1579.
The Fitzwilliam Museum and Kettle's Yard gallery are well worth a visit or why not stroll through the botanical gardens or pop into one of the 31 colleges for a wander or a more organised tour.
The Backs at Clare College
The Bridge of Sighs, St John's College
Stately homes & castles (click on an image to go to their website)
Audley End House (5 miles)
This stunning Jacobean mansion stands resplendent in front of the meandering River Cam and the local village cricket pitch. Aside from the fabulous ornate interiors, there has been a recreation of the Victorian working kitchens showcasing a life "below stairs." Across the road is a miniature railway that takes visitors deep into the late Lord Neville's estate woods (English Heritage).
Hatfield Forest (15 miles)
Hatfield Forest National Nature Reserve is the best surviving example in Britain of an almost complete Royal Hunting Forest. It has seen many owners, from Kings to commoners. No other Forest on earth evokes the atmosphere of a medieval hunting Forest so completely (National Trust).
Hedingham Castle (16.3 miles )
Hedingham Castle is the most iconic of all East Anglian fortresses commanding Essex for nine centuries. Climb the Great Tower,  and immerse yourself in vivid medieval interiors. Delve deep into the historical atmosphere by coming to one of our legendary events, or escape here for the day and roam through the centuries in the ancient landscape
Melford Hall (20.8 miles)
Devastated by fire in 1942, it was nurtured back to life by the Hyde Parker family and it remains their much loved family home to this day. It is their stories of family life at Melford – from visits by their cousin Beatrix Potter through to our visitors today that make this house more than bricks and mortar.
Kentwell Hall (21.5 miles)
Kentwell is not only a stunning period house, but it is also a lived-in and much-loved family home with its story beginning over 500 years ago. Built originally by the Clopton family, local wealthy wool merchants, Kentwell Hall has been home to a succession of owners, with each leaving their own mark.
Grange Barn (23.7 miles)
One of Europe's oldest timber-framed buildings, Grange Barn stands as a lasting reminder of the once-powerful Coggeshall Abbey. With oak pillars soaring up to a cathedral-like roof, bearing the weight of centuries, it was saved and restored in the 1980s. This 13th-century building has truly stood the test of time (National Trust).
Anglesey Abbey & Lode Mill (24.6 miles)
At the age of 30, the future Lord Fairhaven began to create his first home. Wanting to inspire and surprise visitors, he created a spectacular garden with planting for all seasons and a cosy house in which to entertain. Life revolved around horse racing and shooting, and guests enjoyed 1930s luxury (National Trust).
Ickworth House (26.6 miles)
An Italianate Palace in the heart of an ancient deer park. Formal gardens, pleasure grounds, rolling Suffolk landscape and woodlands invite gentle strolls or long walks, runs, bike rides and picnics. The Italianate Garden mirrors the architecture of the house, whilst also encasing an idiosyncratic Victorian stumpery, contrasting light and shade (National Trust).
Flatford Mill (43.2 miles)
Flatford lies in the heart of the beautiful Dedham Vale. This charming hamlet was the inspiration for some of John Constable's most famous pictures, for example, The Hay Wain or Boatbuilding near Flatford Mill among many others. Wandering beside the River Stour or looking at Flatford Mill and Willy Lott's House you can feel as if you are actually walking through one of his paintings (National Trust).
Museums & days out (click on an image to go to their website)
Saffron Walden museum & castle
Our local museum opened in 1835. There are many permanent exhibitions, covering Ancient Egypt, Greece, local archaeology, local history, natural history, fossils, costume, toys, ceramics, furniture and World culture.
The ruins of Walden castle (built 1141-43) lies in the museum grounds.
5 miles from Piglets.
Fry Art Galllery, Saffron Walden
The Fry Public Art Gallery was opened in 1987 and houses an impressive number of paintings, prints, illustrations, wallpapers and decorative designs by artists of the 20th century and the present day who have local connections and have made a significant contribution to their field.
5 miles from Piglets.
Grade 1 listed building tour of 25-27 Church Street, Saffron Walden & the market
A truly unique opportunity to tour a grade 1 listed home within the historic Old Sun Inn – a huge labour of love by owner Douglas Kent who is the Technical & Research Director at the Society for the Protection of Ancient Buildings. Tours are limited in both numbers & dates, so prior booking is essential.
A market has been in the town since 1141 when the town was known as Chipping Walden (i.e. market Walden). Great atmosphere on Saturday morning/lunchtimes. There is a smaller market on a Tuesday. 
5 miles from Piglets.
The House on the Hill Toy Museum, Stansted
The House on the Hill Toy Museum is the largest known privately owned toy museum in all of Europe with more than 80,000 fascinating items of mixed antiquity toys available to view, based on the collection of just one toy loving man who started in 1946 by buying a Hornby train set with his pocket money!
11.7 miles from Piglets.
Once an ordinary house in an ordinary street, Talliston has been transformed into "Britain's Most Extraordinary Home" (The Times) and is now the setting for a fantasy novel.
All bookings are in advance for afternoon teas, private evening tours by candlelight or last Sunday of the month open days.
11.7 miles from Piglets.
Step into the history of aviation at the Imperial War Museum Duxford! Discover the stories of those who lived and worked at RAF Duxford and explore giant hangars full of iconic aircrafts. From seeing the WWII Spitfire and walking under the belly of the Vulcan bomber, to hopping on board Concorde – your visit will leave you in awe.
12.7 miles from Piglets.
Colne Valley Railway, Castle Heddingham
This is a really pretty little line scattered along the route with relocated station buildings, antique signal boxes and handsome bridges, all lovingly restored and rebuilt by enthusiasts. They've got a large and varied collection of operational vintage steam and diesel engines plus carriages and wagons which roundly represent much of their Railway Heritage.
17.6 miles from Piglets.
Punting down the Cam to Granchester
Scudamore's have been hiring punts on the river Cam since 1910 and offer the usual Cambridge 'backs' tour but if you want to break away from the crowds, ask them to take you to Grantchester through beautiful countryside. A pint at The Rupert Brooke pub (who lived in the village) or afternoon tea at The Orchard are a must on a sunny day.
21.7 miles from Piglets.
Fitzwilliam museum, Cambridge
The Fitzwilliam houses world class collections of works of art and antiquities spanning centuries and civilisations.
Highlights include masterpieces of painting from the fourteenth century to the present day, drawings and prints, sculpture, furniture, armour, pottery and glass, oriental art, illuminated manuscripts, coins and medals and antiquities from Egypt, the Ancient Near East, Greece, Rome and Cyprus.
21.8 miles from Piglets.
Just over 45 mins from Piglets is 'The Nook' where you can meet Alpacas, feed them and walk with them. Visit their website to book an Alpaca experience to discover more about these fascinating and enchanting creatures and discover their very individual personalities.
23.1 miles from Piglets.
Between 1958 and 1973 Kettle's Yard was the home of Jim and Helen Ede. In the 1920s and 30s Helen had been a curator at the Tate Gallery in London. Thanks to her friendships with artists and other like-minded people, over the years she gathered a remarkable collection, including paintings by Ben and Winifred Nicholson, Alfred Wallis, Christopher Wood, David Jones and Joan Miró, as well as sculptures by Henri Gaudier-Brzeska, Constantin Brancusi, Henry Moore and Barbara Hepworth
24.6 miles from Piglets.
Thomas Gainsborough's House, Sudbury
Thomas Gainsborough (1727-88) was born in Sudbury and baptised at the Independent Meeting-House in Friars Street on 14 May 1727. A founding member of the Royal Academy he is regarded as one of Britain' most important portrait and landscape artists of the 18th century.
Gainsborough's House Society was formed to purchase his home and establish it as a centre for Thomas Gainsborough. The Museum opened to the public in 1961 and has remained open for over 50 years. The beautiful historic garden at the heart of Gainsborough's House is maintained by a devoted body of volunteers, who garden exclusively with plants that were available in Gainsborough's lifetime. Above is a self-portrait of the great artist.
25.3 miles from Piglets.
The (not so) Secret Nuclear Bunker, Kelvendon Hatch
Keleden Hatch – Witness the three lives of the bunker starting with its role as an RAF ROTOR Station, then a brief period as a civil defence centre through to its most recent life as a Regional Government HQ. Designed for up to 600 military and civilian personnel, possibly even the Prime Minister, their collective task being to organise the survival of the population in the awful aftermath of a nuclear war.
28.2 miles from Piglets.
At Colchester Castle Museum follow in the footsteps of Roman soldiers, Norman invaders, the Witchfinder General and the devastation of Queen Boudica!
In fact you can explore over 2000 years of some of the most important events in British history in this magnificent Castle!
Colchester was Britain's first city & former capital of Roman Britain.
35.5 miles from Piglets.
Shaw's Corner, Ayot St Lawrence, Welwyn

Home to the famous playwright George Bernard Shaw for over 40 years, Shaw's Corner is a 1902 Arts and Crafts house set in a quintessentially English garden.
It feels like Shaw has just left the room, from the pressed clothes in his wardrobe to the typewriter and glasses on the desk in his study.
45 miles from Piglets.
Entertainment (click on an image to go to their site)
Saffron Hall is a venue like no other. Since opening in 2013, it has won awards and gained critical acclaim for their superb acoustics and facilities.
From Jazz to Symphony orchestras; Michael Portillo to Ladysmith Black Mambazo, click on the image to go to their site.
Saffron Hall is located in our local County High School and is a registered charity.
5 miles from Piglets.
At Cambridge Junction, audiences and artists experience and explore contemporary performance, popular culture, creative learning, and the rich territories inbetween.
They are committed to art and entertainment that is up-and-coming, youthful and cutting-edge.  They seek to be relevant and meaningful to the lives of audiences, and informed by their location in Cambridge.
19.9 miles from Piglets.
On Market Hill in Saffron Walden, this real ale, no thrills local, has a quiz night on Wednesday and an acoustic night on Thursday's.
In the back room on most weekends (Friday/Saturday) there is live rock music – on occasion local resident Dennis Stratton (best known as a former member of the British heavy metal band Iron Maiden) might pop in for a jam.
5 miles from Piglets.
Founded in 1936 by the economist and founder member of the Arts Council, John Maynard Keynes, it has helped launch the careers of theatrical luminaries such as Ian McKellen, Derek Jacobi, Emma Thompson and Stephen Fry. The last four directors of the National Theatre – Peter Hall, Trevor Nunn, Richard Eyre and Nicholas Hytner – all directed on this stage at the start of their careers, and it has played host to a dazzling variety of cultural milestones, from Margot Fonteyn dancing her first Swan Lake to Harold Pinter's premiere of The Birthday Party.
24 miles from Piglets.
Theatre Royal Bury St Edmunds
Theatre Royal Bury St Edmunds is a vibrant 200-year-old theatre located in the beautiful Suffolk town of Bury St Edmunds. First built in 1819, it was restored to its Regency design in 2007 and as a Grade 1 listed building is the only theatre in the National Trust portfolio and the last working Regency playhouse in the country.
28.6 miles from Piglets.
Not-for-profit cinema screening both art house and mainstream films, with regular themed seasons.
Live opera and theatre from the West End and beyond. 
Our community cinema is located within our County High School and wine, beer and coffee are available within the auditorium. 
5 miles from Piglets.
First opened in 1937, the Regal cinema was redeveloped as a two-screen ABC movie theatre in 1972 and operated as such until it closed in 1997. The site was taken on by Wetherspoons and reopened in 1999, with a pub on the ground floor and the three-screen Arts Picturehouse taking over the remaining space. The opening of the Arts Picturehouse coincided with the closure of the Arts Cinema in Market Passage, which had previously been the home of art-house cinema in Cambridge. Since then the Arts Picturehouse has championed art-house and repertory film, and plays host to the annual Cambridge Film Festival.
24 miles from Piglets.
Home of the Guineas & July Festival, there's no day out quite like one at Newmarket Racecourse in nearby Suffolk.
Don't forget Tattersalls, The National Stud and The Horse Racing Museum as well as the many music concerts that take place on the Rowley Mile course.
25.3 miles from Piglets.
National Cycle Network # 1
You can pick up the National Cycle Network route # 1 in Saffron Walden.
The Tour de France came thundering through our neighbouring village, Radwinter, just a mile down the road in 2014.
Our little country road outside Piglets seems a particular favourite route for cycling enthusiasts judging by the many bikes that glide past us at the weekends.
Bring your bike and keep it dry, safe and securely  locked away in our bike shed.
5 miles from Piglets.
Carver Barracks supercar day
Carver Barracks Driving Experiences is a 1.5 mile track set out on the runway of the ex-RAF aerodrome to provide a fast, fun, yet un-intimidating driving circuit. It has 8 corners and a long straight, and license holders can enjoy a range of super-car driving experiences with options to drive from 1 up to 5 cars.
Models include the Ferrari California, Lamborghini Gallardo, Porsche 911 and Audi R8.
2.3 miles from Piglets.