Lockdown # 2 – November 2020.
Another project on the to-do list begins…
Some history…in 1957 my father, Geoffrey, brought Billy Bembo his new large white board pig home to Hodges Farm (where its piggery was located, now known as Piglets) and settled him into what became known as 'The Stockade' where he resided for the next 10 years or so.
When the pigs were sold in 1968, the building was used for general storage, then a carpentry workshop for the family's luxury games business, gradually falling into disrepair as redundant farm buildings often do. Hampered by its sloping shape (one could only stand up in the middle), the elements dealt us a favour when a nearby elm tree came crashing through the building one night in 2013 rendering it a 'complete write-off' and giving us the opportunity to re-build and to a more serviceable design.
So a new wooden framed workshop was constructed in 2014 allowing our team of craftsmen and women to move while their old workshop was demolished to make way for 'new Piglets'.
For the next 5 years, the tradition of making the world's finest board games by hand, including a Geoffrey Parker staple; our Championship Backgammon were produced here. 
And in 2019 in our 61st year, HRH The Princess Royal visited the company (lunching in Piglets) and touring this and our other workshops, landing by helicopter on the village green, much to the enjoyment of the nursery school children!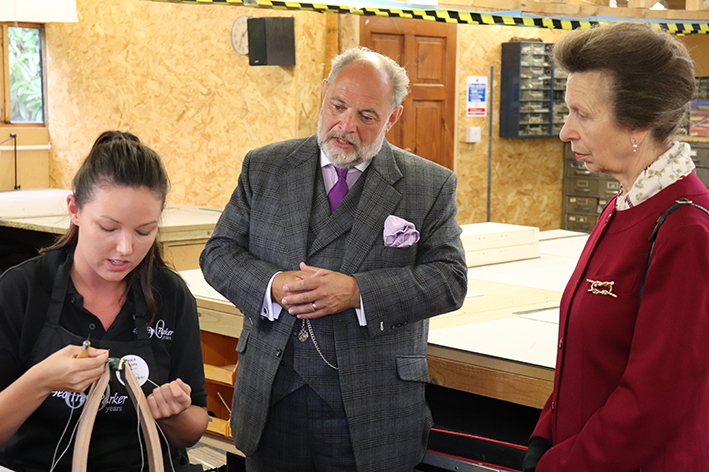 Not long after HRH's visit, our new craft workshop was ready and after the 1st lockdown, the staff moved into their new premises after we had moved their bench and other craft paraphernalia across the property to join the other workshops, show and stock rooms.
So in November 2020 we began work – a major issue were the roof trusses which were too low for the future use of the building. So timbers had to be tied into the roof and sides of the building to allow the lower trusses to be then cut out. Most of this work we did ourselves and it was only when it came to plaster boarding the ceiling, did we ask our local builder to assist.
The the mammoth task of plaster boarding the walls began – I had no idea how long this would take and lugging 15mm sheets of plasterboard around on my own was an exhausting task, but eventually the room began to take shape and the plasterers moved in and the room was almost transformed overnight!
Then all the lights had to be reattached and the room painted, cleaned by the marvellous team of Chrissie and Nicky and then at last the games were moved in and the pictures hung!
Now all we need are some guests to enjoy it – move over Covid 19 and lets get gaming in 2021!