About Piglets
We think we live somewhere special, we hope you do too?
Whilst only being an hour from London by train and an hour and a half by car, our little corner of Essex remains remarkably tranquil and unspoilt, we think mainly to due to the M11 motorway by-passing Saffron Walden and its environs.
This has left our community to be still very much a rural farming based one, which while still attracting London commuters it has to all intents and purposes managed to retain its identity.
The historic towns and villages that lie all around us, offer fantastic architectural and cultural gems, art galleries, museums, stately homes and castles and of course our proximity to Cambridge and to Duxford Imperial War Museum offer great days out.
However, what many discover when booking to stay at Piglets, is that we are much more than a B&B, as you may have read from the many kind reviews we have received. What we have tried so hard to create is a little oasis of luxury where one feels relaxed enough to wander around in a robe and slippers or lounge by our natural swimming pond and treat our place like your place.
We hope we have been able to make our home feel as if you are at yours in the country – we believe the facilities here rival many of the world's top hotels and the attention to detail we have included in our rooms and public areas we hope will delight.
Our cooking is home based although we receive many a compliment worthy of restaurant fayre. We hope we have tapped into comfort food items which will entice you to put your feet up, enjoy all the offerings from our honour bar and most of all relax and make Piglets, just as much part of your holiday or stay as the original reason for you choosing us.
We look forward to welcoming you.
Max & Chrissie
We wanted to open a B&B that we would like to stay at.  It meant a great deal of thought was given to what this might look like and the overall experience of guests who came to stay.  What are the touches that make a good stay into a memorable stay?
Both of us have run successful businesses but wanted a new challenge – one we could do together – and Piglets B&B was the result.  Both of us enjoy meeting new and interesting people and this seemed a great way of doing this while having a fantastic home to live in and share.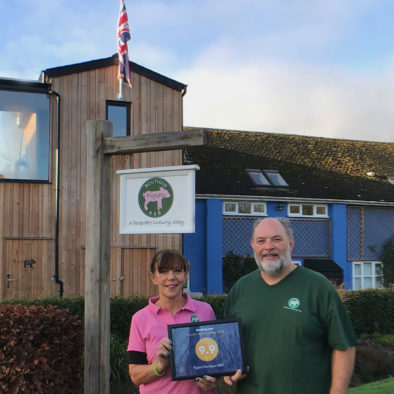 After over 40 years of running my family's luxury games business, now being run by my son on site, I decided it was time for a break and a new challenge with my lovely wife Chrissie.
After years of travel and disappointing hotel stays, I wanted to bring to Piglets many of the things I feel bigger hotels missed despite classing themselves as 5 star and 'boutique' and then combining this together with the personal touch that can only be truly found within a home.
I believe we have gone some way to achieving this – it is always a work in progress as we strive to make your stay as best we possibly can.
Piglets was originally an old Essex tithe barn and was part of Hodges Farm (which is situated just behind Piglets) which Max's mother and father bought whilst serving in the RAF in 1944.
To keep themselves going during the post war years, the barn was converted into a Piggery, with pigs upstairs and down and free ranging across Hodges small holding and eventually growing to around 450 Wessex Saddle Backs and Large Whites.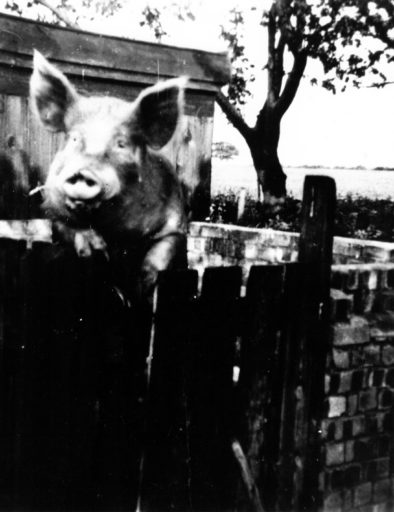 In 1968 the remaining pigs and farm equipment were sold (see poster opposite) along with "Billy Bembo" our Large White boar as seen on the left looking over his gate from the 'Stockade' which is now our games room.
From then the building housed the luxury board gaming business of the Parker family with up to 25 locals producing the Company's hand made goods.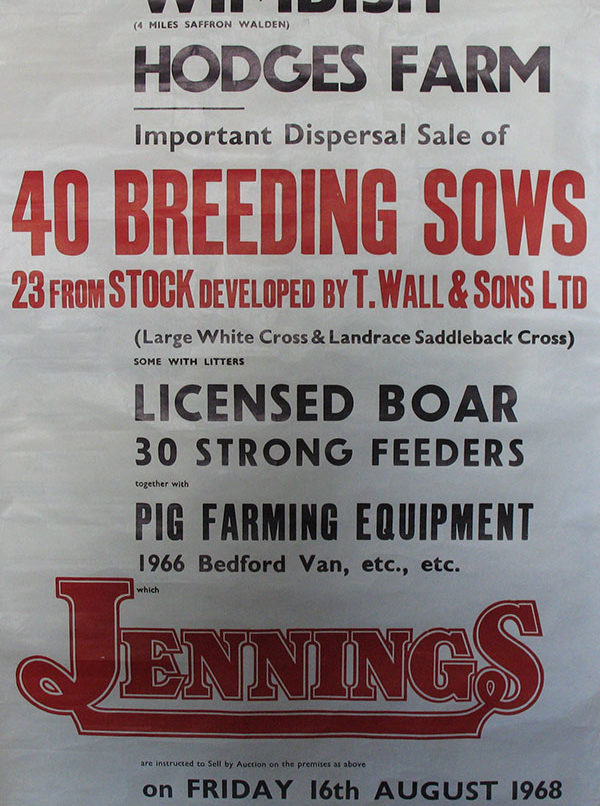 Then in 1994 the building was converted yet again, and this time into Max's home (the current blue building known as 'Old Piglets') and then following his marriage to Chrissie, the home was extended in 2019 to encompass the B&B accommodation you can enjoy now.
Our focus: guest relaxing
As you may have already realised from reading our website and looking at our reviews, our main focus is to have our guests relax as quickly as possible and remain that way throughout their stay.
Below we explore some of the comforts that await you:
A particular favourite is our honour bar, which is stocked with an extensive array of tipples; be it cold lagers, beers and stouts, to a huge selection of branded and craft gins can be found in our Gin library together with other spirits, digestifs  and aperitifs.
We also have a great selection of house wines in  red, white and rose with plenty of choice of soft and non alcoholic alternatives.
Nuts, crisps, chocolate and even local ice creams are there for your enjoyment.
For those seeking something extra special, we  have our fine wines from our cellar along with Grand Cru Champagnes and desert wines.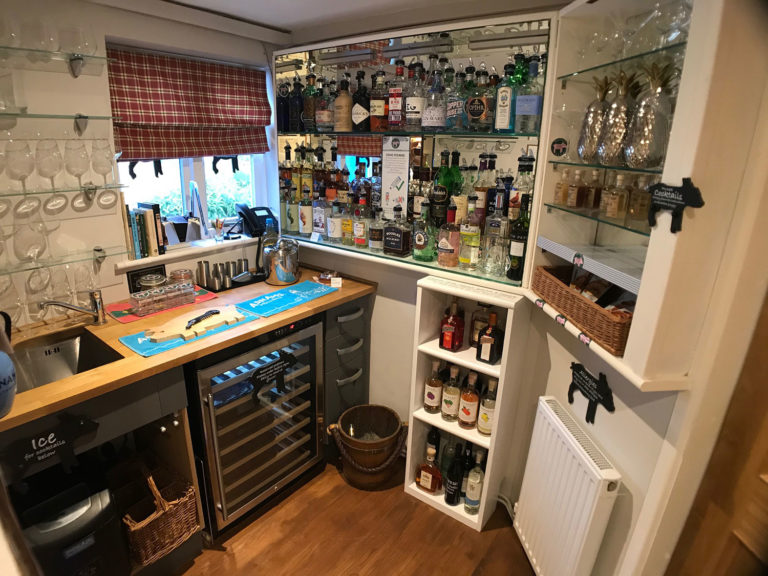 Here there is plenty of soft seating to enjoy a drink (it is just next to the bar) or a good book or chat to other guests. At around 4 o'clock Chrissie will unveil one of her fabulous cakes and complimentary tea or coffee is offered to guests on their first night, after which on subsequent days cake can be purchased to take back to your room to enjoy with a beverage of your choosing or you can purchase a hot chocolate, latte, cappuccino, espresso or a pot of tea for two, just seek out Chrissie or Max who will be pleased to make it for you.
In Max's previous life of making the world's finest board games (which are still made on site) one would be surprised not to find a few examples of his family's work so you will find championship Backgammon, Chess, Scrabble and Bridge. We also have jigsaws available on request.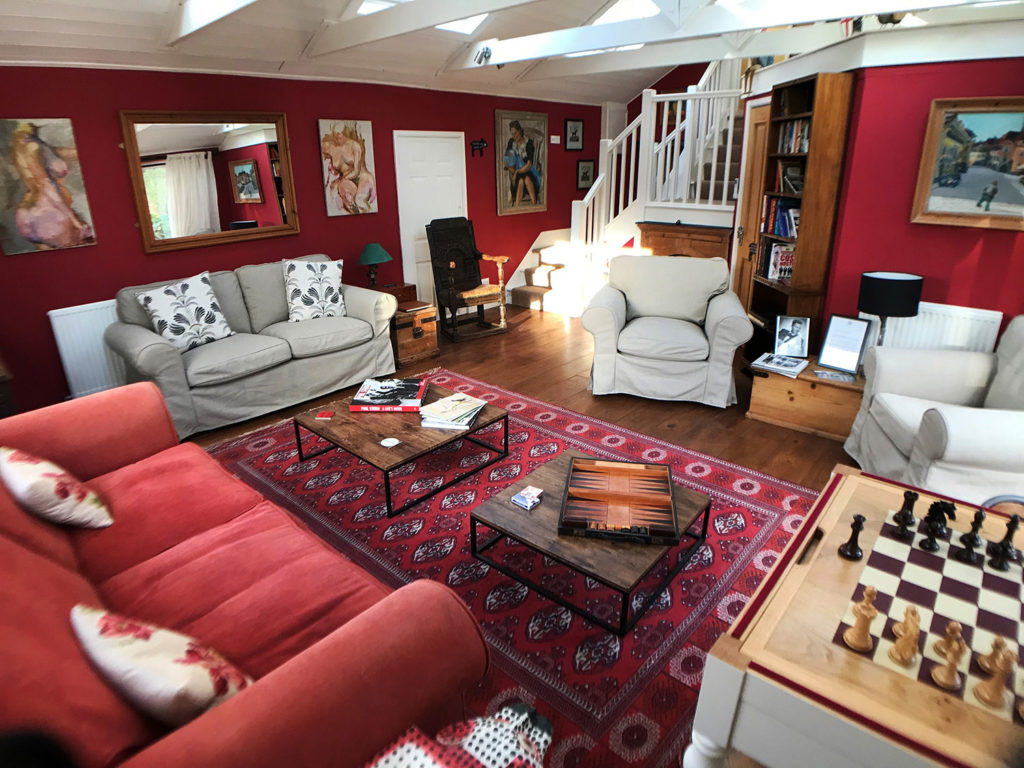 Located at the end of breakfast room is a TV lounge area with a 55″ flat screen smart TV. If sitting watching the rugby in one's bedroom doesn't quite cut it or delving into our collection of 200+ DVDs is more your thing, then you are welcome to watch 'the box' here with friends/other guests and partake in a libation or two!
Of course this is not forgetting that your bedroom smart TV receives Freeview, Amazon Prime and Netflix.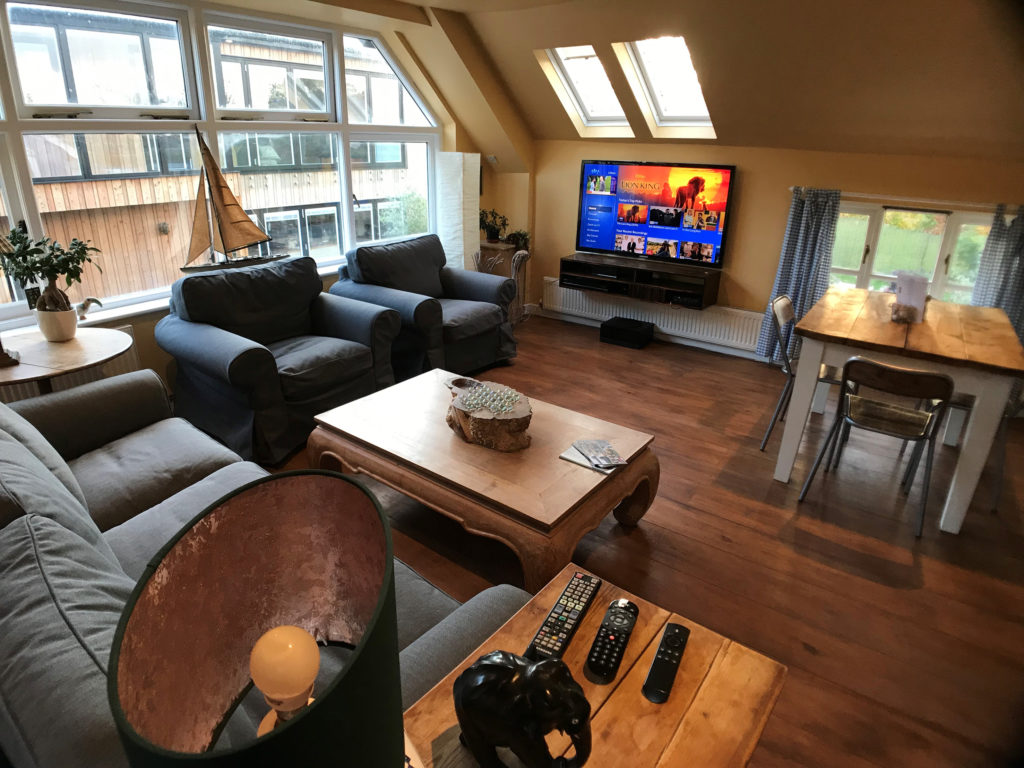 If you are partial to a smoke...?
Our Havana Cabana & French patio are the places to be...
Rather than offer a 'bus shelter' type of affair for those who enjoy a smoke, we have created a weather proof gazebo we call the Havana Cabana where you will find velvet cushioned seats, a DAB radio with Bluetooth to play your own tunes,  a heater in winter, plus some reading material and matchbooks from our travels. 
The Havana Cabana is located just down the steps from the Mediterranean patio past the guest lounge.
In the summer or dry weather, our French patio is another place to have a 'puff'; just off the swimming pond area and with commanding views of the Péntanque piste and the Croquet lawn.