HRH The Princess Royal lunches at Piglets
On 23rd September 2019, after months of preparation and visits by Royal Protection officers, Scotland Yard and Essex police, we were secure and prepared to receive HRH.
We heard her, before we saw her, as a distinct buzz of a helicopter grew louder and then soaring above us came the Royal chopper as it passed over Piglets to land on the nearby recreation ground in the village.
Joining Chrissie and I, were my son, Elliot and his girlfriend and photographer, Millie, and the Deputy Lord Lieutenant of Essex, Mr Vincent Thompson, resplendent in his uniform complete with ceremonial sword!
We waited in anticipation, surrounded by armed police officers and in a flash a gleaming black Jaguar suddenly swung through our gate and the Royal party was upon us.
Elliot & the Lord Lieutenant of Essex awaits HRHs arrival
Max opens the gate in readiness!
Max & the Lord Lieutenant share a nervous joke
We waited in anticipation, surrounded by armed police officers and in a flash a gleaming black Jaguar suddenly swung through our gate and the Royal party was upon us.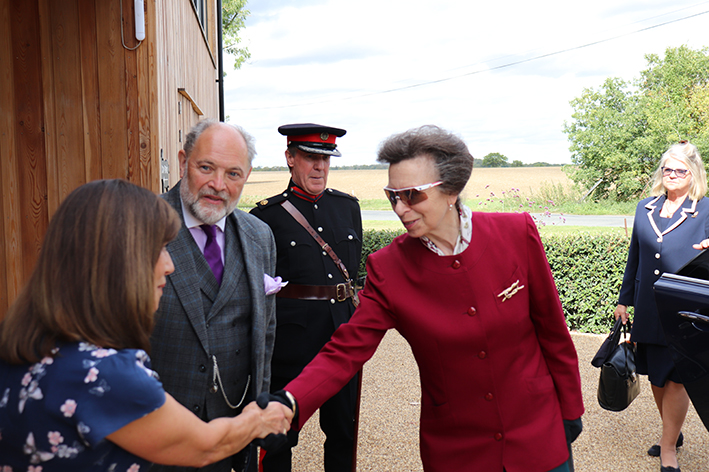 It was a beautiful sunny day and HRH exited her limousine sporting a pair of sunglasses and a vivid red top. After the DLL welcomed her, I introduced her to us all before showing her through to Piglets guest lounge where we had set up a table for HRH, her Lady in Waiting and her Royal protection officer. Despite looking forward to  showing off our culinary skills, we were told that The Princess just wanted some simple finger food, so Chrissie produced as requested.
While the Royal party dined, so did our welcoming party in our upstairs breakfast room. 
Everything was on a tight schedule as the Royal family's hardest worker had already visited one company over in Colchester, with another booked in for later in the afternoon before then hosting a dinner in the evening – so off we set across the patio, around the swimming pond and weaved our way down to the awaiting dignitaries assembled in a line to receive HRH.
'Booted and suited', local dignitaries & VIPs awaited HRH, from the local Mayor of Saffron Walden, Uttlesford District Council, our local Paris Council and the hugely supportive members of the Rural Development Commission who have helped both Piglets B&B but also the company HRH had come to visit, Geoffrey Parker, my family's luxury board game business.
Working the line and as professional as one would expect for someone who has done this thousands of times, HRH was charming and interested in all she met from the local parish councillors to the other elected officials. 
Once the 'hellos' were out of the way the dignitaries trooped off to a splendid buffet feast laid on by Chrissie in Piglets breakfast room, while Elliot and I escorted HRH to our first workshop (now Piglets' new games room), where HRH saw the amazing work performed by our highly skilled craftsmen and women making the world's finest board games. 
I was hugely impressed by HRH's depth of knowledge of industry specific details and how various operations were performed and there was little we could tell her that she didn't already know – her interest was focussed and inquisitive and myself and my staff were asked direct questions backed by considered and intelligent responses from The Princess. It was refreshing to find someone with an actual interest rather than just 'going through the motions' as one might have expected.  
Then Elliot and I led the Royal party through to our stock room where our raw materials (mainly leather focussed) were stored and explained the issues with supply in a fast reducing supply chain we now face in such a niche business such as ours.
And then onto our showroom where the first item on display was a replica of Buckingham Palace made in printed leather which I designed to celebrate HM The Queen's Diamond Jubilee.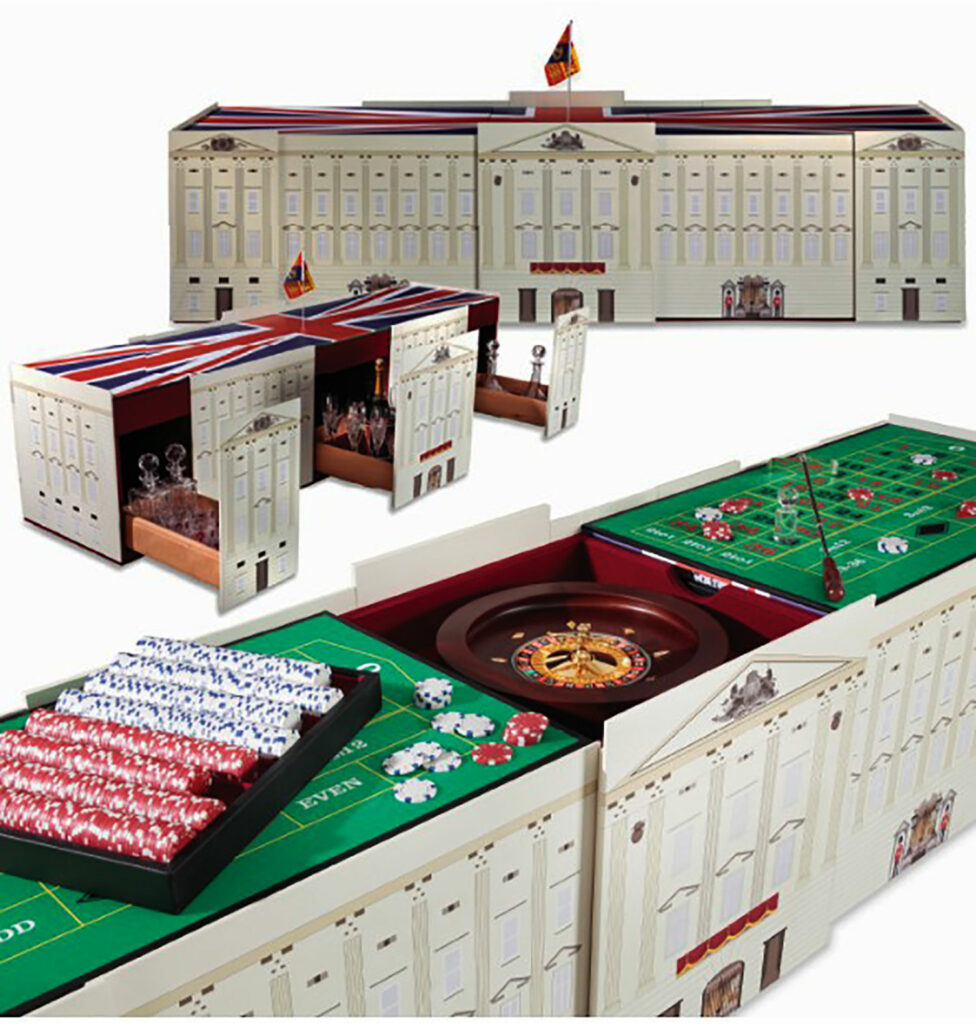 Somewhat nervously I revealed that the piece concealed a full roulette table, chips and wheel within the roof and then each wing and the front balcony section, draws forward forward to reveal crystal decanters and stemware to enable one to "Party at the Palace" – luckily HRH was amused rather than the other way!
Moving on through the showroom, our board games were explained with archival models from the sixties to today's creations which include our Championship Backgammon and Chess sets for which the company has become renowned and won numerous awards.
Interestingly, although not a games player as such, HRH revealed she regularly used one of my father's small leather-bound twin 'book' volumes that held a pair of playing card decks he made back in the 60s., entitled on one spine 'Let us play' and on the other, as HRH chipped in "Idle Moments". 
Then we moved into the new workshop which the visit was all about, celebrating our 60th year this was constructed by our local builder and joined up with the existing workshops and show/stock rooms to enable the Company to work from one area rather than being spread all over the site and to allow for us to convert The Stockade workshop into the B&B games room.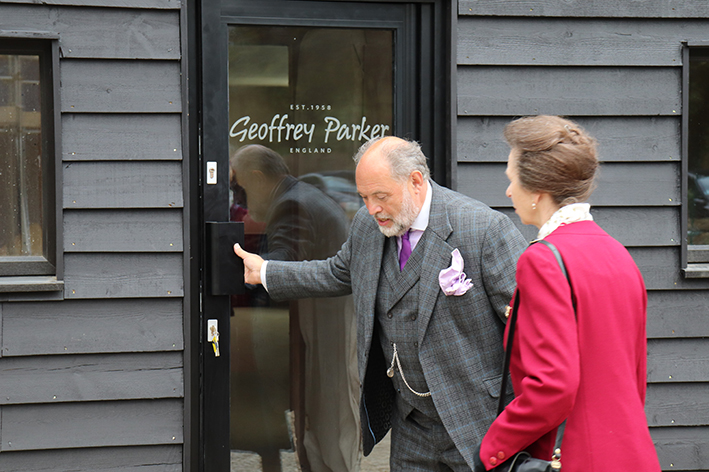 A brief opening ceremony was performed by HRH (actually our 61st year as the visit took longer to arrange than initially hoped) and again The Princess stood and chatted with the assembled staff, dignitaries and family members. 
Under the self-portrait of our founder and my father, and Elliot's grandfather, Geoffrey, HRH signed our visitors book and received a posy of flowers from our Accounts Manager young daughter. 
Then, with the car in position and security abound, she was whisky away up our drive back to 'the rec' where Wimbish nursery school children had assembled to wave the helicopter 'goodbye' as HRH set off to repeat elsewhere.
Exhausted but happy and somewhat relieved that no terrible faux pas had befallen the day, we said our goodbyes to our guests and our staff and the family retired to Piglets to enjoy a well earned drink and nibbles!
Just another day in the countryside!